You should configure D-Link Network Area Storage (NAS) devices to discover music when searching for network shares in BluOS using SMB sharing.
Note: For specific D-Link NAS devices, only the newer device firmware releases can utilize SMB sharing. The SMB sharing may not be configured by default, depending on the release version. Please refer to the D-Link support site and ensure to configure the D-Link NAS to the latest firmware.
Configuration
The following configurations are based on D-Link 323 (Firmware v1.09) and D-Link 343 (Firmware v1.05).
In a web browser, enter the IP address of the D-Link NAS device.
Note: You can also use the DNS EasySearch Utility from D-Link.
Enter the username and password.
Select Configuration.
Select ADVANCED > NETWORK ACCESS.
Under the NETWORK ACCESS SETTINGS, configure the following:


Type – SMB
Category – User
User – Select All accounts
(Enables guest access without a password. If required, you can also select a previous NAS user account)
Folder – Browse and select the required folder to share.
Permission – Read Only or Read/Write
Oplocks – No
Map archive – No

Select Save Settings.
Repeat the configuration for each folder you require to configure. Once configured, the folders appear as a part of the SMB List and are discoverable by BluOS using the share name and path.
D-Link 323 (v1.09):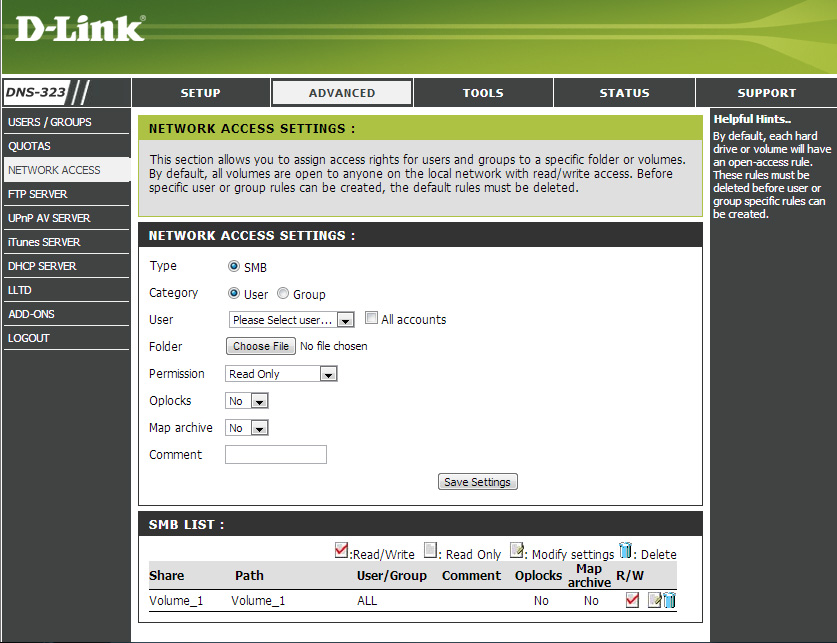 D-Link 343 Firmware (v1.05):